Industry solutions
Design and function for construction work on existing buildings
Renovations of historic buildings must meet a combination of varying demands: modern design and functionality standards, new and different laws – regarding energy efficiency or on the subject of fire protection for example – and overall urban development planning. GEZE consultants are on hand to help at any time, even at short notice.
Integrating state-of-the-art entrance areas into existing façades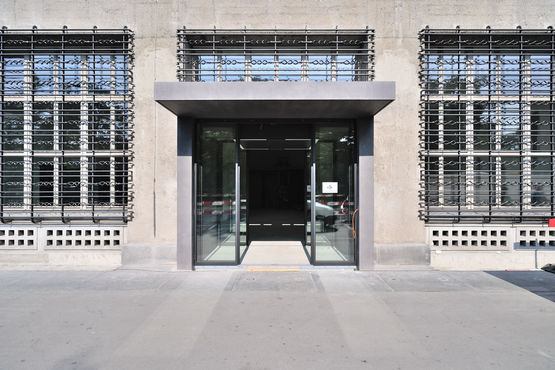 Entrance area to the Sihlpost © Christian Moeller / GEZE GmbH
Whether a building is being renovated or entirely rebuilt according to historic records – to retain the character of a historic or protected building, modern technology needs to be integrated as unobtrusively as possible. With its Slimdrive series, GEZE offers state-of-the-art technology and safety for automatic doors with just a 7 cm overall height.
The Slimdrive SL-FR system at the Sihlpost in Zürich, for instance, ensures an "open door" at all times in an emergency. The subtle Slimdrive drive units conceal modern, intelligent control technology with a hold-open time that adapts to the frequency of use. If the stream of visitors increases, the door leaves are automatically kept open for longer. The motion parameters (acceleration, hold-open time and opening and closing speeds) can be set individually. The Slimdrive's control unit ensures the doors are future-proof and enables system integration into the building management system so that the door functions can also be monitored and modified remotely.
Retrofitting the fire protection concept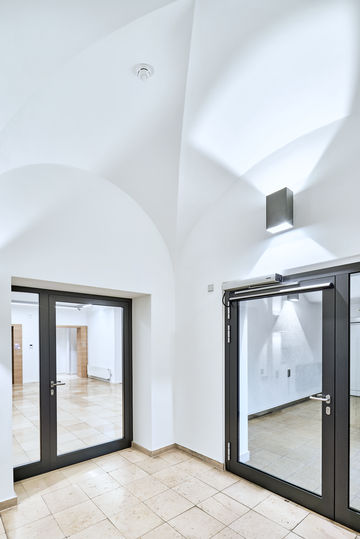 Wireless radio extension for hold-open systems © Annika Feuss / GEZE GmbH
Fire protection guidelines must also be observed in historical buildings. But how should one meet the special requirements placed on fire doors with hold-open systems in historical architecture? Due to the often large room heights and the distances between the lintel and ceiling of far more than one meter, additional ceiling smoke detectors are required on both sides of the door. Additional cable ducts in the ceiling are therefore unavoidable. Building operators, door builders and planners faced the challenge of leaving the historic ceilings untouched - partly with beams - during the modernisation of the listed headquarters of the metal industry association in Dortmund.
With our award-winning GEZE radio extension FA GC 170 for hold-open systems with radio components (with a general type approval) a unique solution could be found. This has the great advantage that it does not require any additional cables and therefore the ceiling does not have to be torn open.
Energy efficiency and retrofitting building stock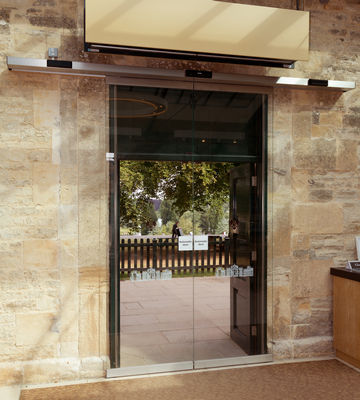 © Chris Honeywell / GEZE GmbH
Energy efficiency often the reason behind retrofitting existing buildings: climate protection targets to reduce emissions by at least 40 percent by 2020 compared with 1990 are triggering new demands for retro-fitting building stock. GEZE consultants can help you to adhere to legal requirements and standards and contribute to meeting the climate protection target.
One focus is on window technology: "intelligent" drives and controls from GEZE on façade and roof windows, for instance, can be used to achieve regulated ventilation. The energy required to activate the electric drive is minimal, saving additional costs and resources for air conditioning systems. This window technology can also be combined with RWA solutions by GEZE to meet fire protection requirements at the same time.