Topics
Fire fatalities are smoke fatalities - smoke and heat extraction (RWA) can save lives
The most frequent cause of death or injury in a fire is smoke inhalation. Fumes can lead to unconsciousness in just three breaths, and to death after ten. Toxic fumes also pose a serious risk, however these fumes can quickly be drawn outside via a smoke and heat extraction system.
Fumes endanger lives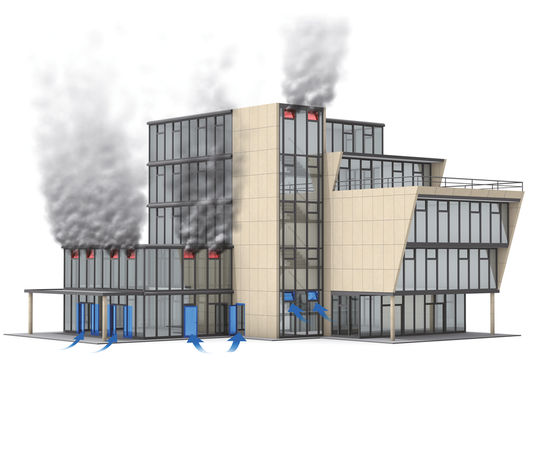 Rooms can quickly fill with toxic fumes in the event of a fire.
There's no fire without smoke: 10 kg of paper or cardboard releases up to 10,000 m³ of fumes when burned Even a burning waste paper basket quickly fills an office with smoke from floor to ceiling. When fire breaks out, it's the smoke that's the biggest danger to the people caught up in it, and the fire-fighters.
The developments are dramatic: The first effect of smoke is impaired visions - in less than three minutes. People lose their bearings and begin to panic. Escape routes are no longer recognisable. Then comes carbon monoxide (CO). Concentrations of this gas rises rapidly during a fire. Inhaling carbon monoxide leads to headaches, symptoms of poisoning, unconsciousness, and ultimately death.
Smoke-free escape and rescue routes
Toxic fumes must be removed from the building as quickly as possible. Smoke extractors are installed to provide natural smoke extraction. These systems can be activated automatically (via smoke detectors) or manually (via RWA buttons). They open ventilation slots such as windows or skylights.
These draw fumes and heat energy away from the building. Escape routes remain smoke-free and fire-fighters are able to intervene quickly, precisely where they are needed.
Smoke extraction needs fresh air
Smoke and heat extraction systems are dependent on smoke being extracted from above a supply of fresh air from below. This fresh air supports fire-fighting measures by:
increasing thermal drive, resulting in fumes being drawn more quickly through windows or openings in the roof (chimney effect),
creating a low-smoke layer along the bottom part of the room to provide a clear view of escape and rescue routes,
reducing the amount of fumes and explosive smouldering gases as a result of cleaner combustion,
reducing the heat, enabling fire-fighters to get closer to the fire.
Smoke extraction, heat extraction, and RWA systems
A smoke vent is part of preventive fire protection and ensures that smoke is extracted in the event of a fire. The objective is a stable layer of air with little smoke near the floor so that escape and rescue routes can be used safely. An open smoke extraction also carries away heat from the fire. This means that the load-bearing behaviour of load-bearing or separating construction components is extended considerably. For this reason, the terms smoke extraction and smoke/heat extraction (RWA) are often used synonymously.
Smoke extraction is designated as natural smoke extraction (NRA) if it works via natural thermal lift, so without additional ventilation drives (such as ventilators).
Natural smoke and heat extraction units (NRWG) include, for example, windows, skylights, ventilation blinds which automatically open in the event of a fire and help draw smoke and hot fumes out of a building.
Pursuant to DIN EN 12101-2, an NRWG is a natural smoke and heat exhaust device that is intended for installation as part of a smoke and heat extraction system in buildings.

An NRWG consists of

a window and its associated components (profiles, seals, door fittings),
the infill (e.g. glass, panels), and
the drive system with its associated components (drive, consoles, fittings).

A mechanical smoke extraction (MRA) works with a motorised drive, such as with smoke extraction fans. Smoke can be removed either with or without ventilation ducts.
Materials in wall or roof areas are described as heat extraction (WA) if they melt at higher temperatures or destroy themselves in the process. Openings created in this way enable heat from the fire to escape from the burning room. The energy drawn from the room on fire is now not available to further heat load-bearing or divisional construction components, for example. As a result, these construction components reach their critical temperature at a later point in time.
Heat extraction thus extends the load-bearing behaviour of such components. Heat extraction generally becomes effective when the fire has taken hold for some time. Fumes are also drawn out via the openings. But this is too late in terms of protecting people and fighting the fire. S0 heat extraction is not the same thing as smoke extraction!
The term smoke and heat extraction and the technical systems that performs this function are both abbreviated with RWA. Natural smoke and heat extraction systems (RWA) consist of the following:
the smoke and heat extractor (NRA), e.g. windows, fanlights, skylights in roof, each with drive system
the control and power supply (control panel)
the trigger elements (e.g. smoke detectors, RWA button)
the fresh air supply (e.g. via open windows or doors)
smoke screens if needed (to divide up larger rooms)
Functions of RWA
Smoke and heat extraction systems (RWA) serve primarily as preventive fire protection to safeguard people. They also have additional functions, however:


Protecting people
keeping smoke out of rescue routes

Environmental protection
reducing environmental damage

Property protection
maintaining the building structure

Active rescue

Minimising damage caused by fire extinguishing activities

Fire-fighting support

Passive rescue

Minimum use of extinguishing agents

Ventilation of the fire

Localisation of the fire

Minimisation of the thermal load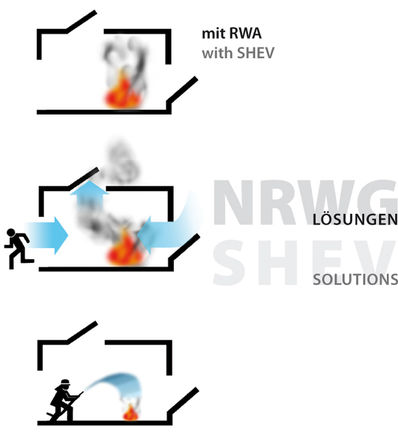 Smoke and heat extraction
RWA enables escape, rescue, and fire-fighting measures.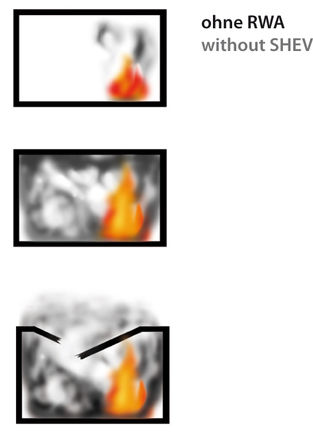 Smoke and heat extraction
Without RWA, toxic fumes and heat will remain in the building.
GEZE RWA solutions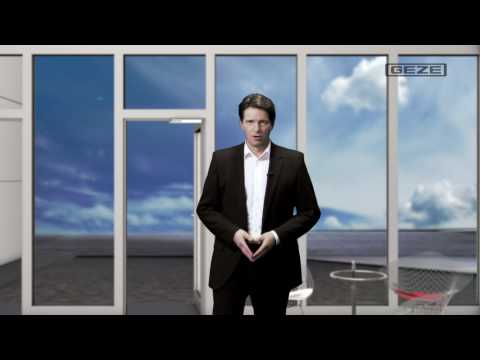 GEZE provides complete exhaust air solutions for safe, fast, and natural smoke extraction in the event of a fire, as well as intelligent RWA control units. A GEZE RWA system ensures smoke is removed (removing or extracting smoke) and heat is extracted in the event of a fire. How it works: easy to install and user-friendly electrically-operated chain drives open and close the fresh and exhaust air areas by acting as direct openers and powerful electric spindle drives. This means that doors and windows soon have a large opening angle, allowing smoke to escape and fresh air to get in, depending on the design.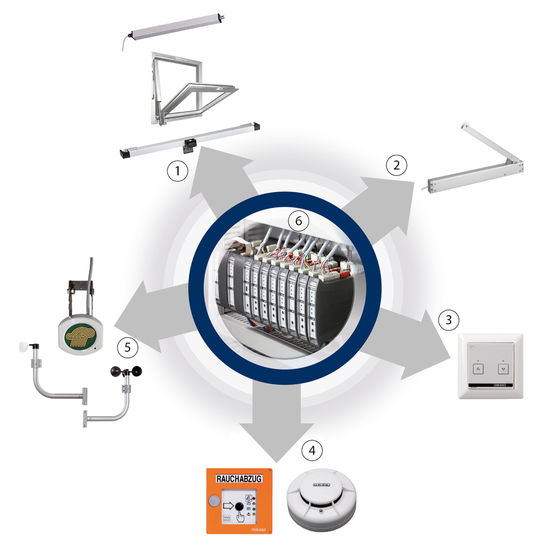 RWA system from GEZE © GEZE GmbH
The RWA system is controlled via the GEZE emergency power supply unit. This has two independent power supplies (mains and battery) for guaranteed operation whatever the situation.
In the event of a fire, the system is triggered quickly through automatic detectors (smoke or heat detectors), via an external fire alarm system (BMA) or manual activation (RWA button). The windows, fanlights, skylights, and doors can be controlled according to the wind direction, allowing smoke to be extracted away from the direction of the wind in relation to the building.
GEZE drives for natural smoke and heat extraction units (NRWG)
GEZE supplies drives which have been tested and certified in compliance with EN 12101 Part 2 in NRWGs. GEZE drives are tested and certified as an NRWG with aluminium profiles such as from Schüco, Akotherm, Kawneer Alcoa, Wicona, Heroal, Aluprof, as well as with wood and combined aluminium and wood profiles from M Sora.
GEZE NRWGs used for automatic fire ventilation can of course also be used for daily ventilation. They are therefore dual function units and are not just used in the event of a fire. If NRWGs are also used for day-to-day ventilation, additional components for automation are recommended, such as vent switches, rain-wind controls or temperature and CO2 sensors.
Integration into the building management system
GEZE smoke and heat extraction solutions can also be networked into the KNX and BACnet world of building management systems via interface modules. As a result, energy-efficient, sensor-controlled ventilation and a healthy indoor climate can be readily implemented as can central monitoring of the windows.
GEZE electric RWA and ventilation systems brochure
You can download our brochure on RWA and ventilation systems here:
RWA is part of technological fire protection. This is becoming increasingly important in building planning. The earlier fire protection is considered during the planning phase, the better the architectural design can be implemented, and expensive retro-fitting or additional costs can be avoided as a result.
Fire protection certificates and concepts are important components in building applications. Complex building projects call for specialist skills to secure these necessary certifications. GEZE supports and provides advice on the development of fire protection concepts.
GEZE also provides support with its WinCalc calculation program for RWA control panel configuration:
Simple: the central configuration in WinCalc takes you through the necessary questions with a step-by-step approach.
Competent: WinCalc carries out a feasibility check and the automated design of a suitable control panel.
Quick: Transmission of the results into the shop enables a quick switch between the technical design and commercial preparation of the project.
Individual: You receive a cable plan in line with your project-specific details.
Sustainable: The plans are assigned to the order and provide precise documentation - even for later on.
Our sales structure gives us access to experts in both building-related and technical consultancy, and a wide-ranging NRWG system partner programme. Our Europe-wide network of subsidiaries and distribution representatives also ensures delivery of GEZE NRWGs outside of Germany. We can also help you with the certification process and with preparing the corresponding documentation.
Installation videos for the Slimchain and Powerchain window drives:
Go to the Slimchain installation video
The RWA is a dormant safety device. It is required to function immediately in the event of a fire, even after many years. Ongoing and professional maintenance is crucial in ensuring this functionality. If the RWA is not (properly) maintained, its long-term functionality cannot be guaranteed.
GEZE Service offers regular servicing and qualified maintenance of automated systems by fully trained service technicians. This of course includes RWAs.