Swing doors – the matching choice when planning your door?
The classic swing door – also referred to as a pivoted or single-action door – is the most frequently used type of door, because it can meet a wide range of structural demands, such as fire protection and accessibility. In addition, swing doors are available in numerous designs, e.g. automatic opening or manual opening. But in some cases, a revolving door or a sliding door may be the better solution: we support you in finding the matching system for your project.
GEZE door technology and drive systems for swing doors in a quick check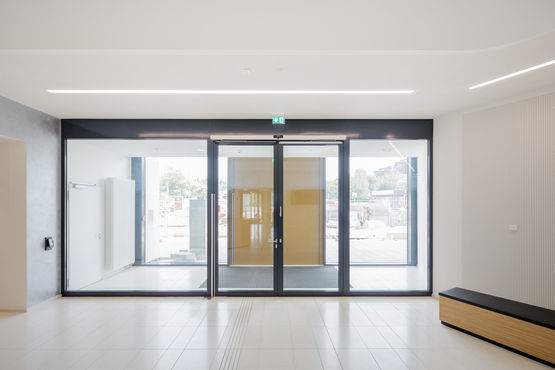 Thanks to the powerful GEZE Powerturn IS drive unit, heavy active leaves are moved safely and with precision in Leonberg Town Hall. © Jürgen Pollak / GEZE GmbH
Whether it's fire protection, accessibility, comfort, design or footfall frequency - in most cases, swing doors score with the corresponding GEZE door locking systems and their variants when it comes to these important demands. However, with each new project, planners and architects are faced with the task of selecting the drive unit or door closer with the best combination of capabilities and functions from this complex array.
Swing doors offer many different application scenarios
For example, swing doors with GEZE door closers can be closed safely, comfortably and quietly. Whether with link arm, guide rail or integrated into the door, our door closers ensure maximum safety in the event of a fire, and have become indispensable due to increasing statutory security regulations. The hold-open time of a fire protection door can also be defined without any problems by using the GEZE hold-open systems. In addition, we offer numerous swing door solutions, also for non-fire protection doors.
Floor spring as well as integrated door closer variants offer very special possibilities, especially with regard to optical aspects. This variant can be used to meet high demands on design and function. Both variants intervene only very discreetly with the door and façade design and still fulfil all security demands.
Our automatic door drives stands for "comfort, security, accessibility and hygiene" because the person going in and out does not need to operate either the handle or the switch. At best, the user does not even notice that a door has been passed. This is a clear advantage, not least from a hygiene and accessibility point of view - and supports, for example, modern building concepts such as Healing Architecture.
The advantages of swing doors
In general, swing door solutions are always in demand when safe and barrier-free access to the building and also within the building needs to be guaranteed. If, for example, the aim is to decelerate access or to create particularly prestigious entrance areas, a revolving door may be the more suitable solution. If the entrance is to be used for admission control or as a lock solution in the entrance area, a sliding door solution is recommended.
Found across all industries: GEZE swing door drives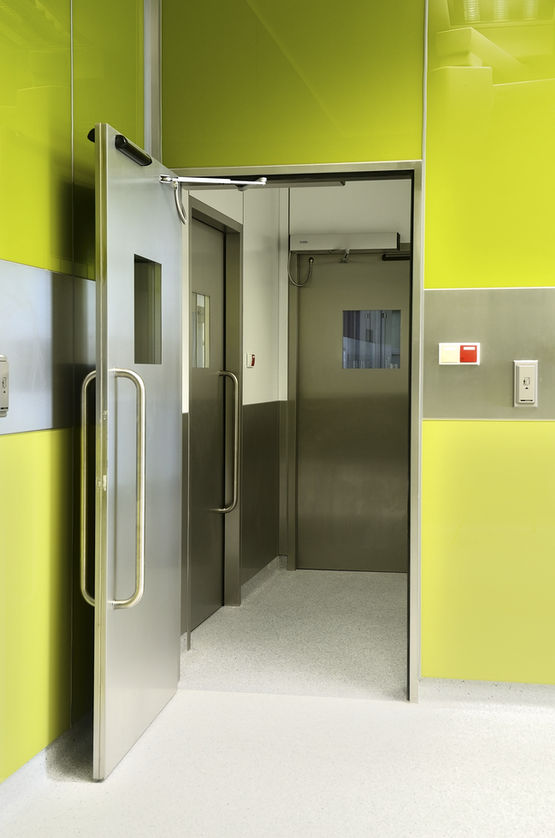 GEZE TSA 160 NT in an operating theatre in the Children's Memorial Health Institute, Warsaw © H. Łukasz Janicki / GEZE Polska
We encounter swing doors wherever we go. Whether in shopping centres, office buildings, airports, clinics or private homes. With our door closers and door fittings, you will find the right solution for your building to open and close single or double leaf swing doors. In many types of buildings, double leaf doors should be open to provide sufficient space for people or transport, but still close safely in the event of a fire. This is where the compact GEZE hold-open systems, consisting of an overhead door closer and a guide rail system, can be optimally used. Such a door system can be opened without effort, but can also be fitted with a permanent dogging mechanism if necessary and closed safely and reliably in the event of danger. For the special demands in retirement homes, hospitals or nursery schools, GEZE door closers with electric free swing function enable doors to be opened and closed with virtually no force. The free swing function of door closers means that a door can be moved with little resistance in the opening or closing direction if it has previously been opened once (e.g. in the morning) to a predetermined opening angle. At the same time, however, the door closer closes the door in a controlled manner as soon as the power supply is interrupted. This enables compliance with fire protection regulations, but the door is also barrier-free at the same time.
Central demands and functions of the three types of doors
SWING DOOR
REVOLVING DOOR
SLIDING DOOR

Fire protection

Yes, depending on the product selection, see

here

.
No

Sliding door fittings: No

Automatic sliding doors: Yes

Accessibility

Yes, but observe usage limits with exceptions.
No

Sliding door fittings: optional

Automatic sliding doors: Yes

Escape route
Yes, possible with most swing doors Exceptions are listed

here

.

Manuell: No

Automatic: Only for escape and rescue routes (not smoke protection): Yes, only with the 'break-out' fitting variant with folding leaves

Sliding door fittings: No

Automatic sliding doors: Yes, if approved as escape and rescue routes

Interior/exterior door

Interior or façade doors are possible, depending on the swing door type. Further information is available here:

For hold-open systems: Various demands and functions that do not apply according to the table can be implemented on a building-specific basis. Please contact us.
Both

Sliding door fittings: for internal applications

Automatic sliding doors: Both, primarily external applications

Footfall frequency
High, exceptions are listed

here

.

Manuell: Low to high

Automatic: High

Sliding door fittings: Low/medium

Automatic sliding doors: High

Appropriate door systems
Single and double leaf door systems are possible for most swing door types, right and left single-action door. Exceptions are listed

here.

3 and 4-leaf door systems
Single and multi-leaf sliding doors
Leaf material wood/glass/metal
Wood and glass for most swing door types. Exceptions are listed

here

.
Glass/ aluminium
Wood + glass
Find the right swing door for your product
Are swing doors perfect for your construction demands? GEZE has numerous door closer variants and drive systems in its portfolio to satisfy specific demands. We would be happy to assist you in selecting the right swing door.
View our swing doors and all product details here
Are you looking for a swing door drive? Get to know our portfolio!
Integral door planning with BIM
Doors are among the most complex components in building planning. We offer you comprehensive advice on the subject of BIM as well as free BIM door objects. For example, you can load single or double leaf swing doors in various CAD systems and configure them individually. A valuable tool for your integral building planning.