GEZE Insights
Making GEZE products tangible – or: why we still attend trade fairs
Thursday 18 January, it's a grey, rainy and cold day in Munich when we reach the exhibition ground at 1.00 pm. The difference when you reach the GEZE stand in Hall 2 is unmistakeable. Here, everything is bright, modern and open – quite the opposite of cold. The colour yellow dominates. The many visitors and lively conversations help to create a pleasant, almost family atmosphere.
On the same level as GEZE customers and GEZE partners
And from the midst of the crowd Peter Rürup, who is just saying goodbye to a group of Asian visitors, approaches us and smiles: "You know, we ask ourselves the same question every time: should we exhibit at BAU? Is it really worth the effort? We know our customers, after all, and can also reach them via our road show. But take a look around! It's fun, and it's hugely important to our customers, partners and prospects that we attend." And Rürup certainly knows what he's talking about. He joined GEZE 13 years ago, and has attended many trade fairs throughout his career.
GEZE at BAU Munich – hard facts
250,000 trade fair visitors, of which approx. 85,000 of from abroad
514 m" of exhibition space
more than 90 meetings per consultant at the GEZE stand
over 400 foreign guests attend the international customer evening
Making GEZE products tangible
"Our customers want to experience our products and "grasp" them in the truest sense of the word. This is incredibly important. And we are open as a company – we seek out direct contact. Literally. We love to talk to anyone who is interested in our services. That's the only way we learn! "Really understanding our customers' needs, knowing what the market wants and also seeing what our customers may not actually understand. That's what a trade fair is all about – and coming into direct contact with our customers."
We are an open, transparent and approachable company. Everyone is equally welcome here!
Peter Rürup, Pre Sales Manager at GEZE
Impressions of the BAU Munich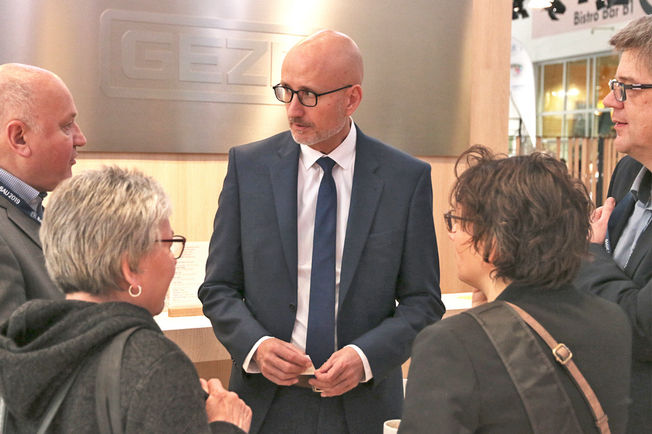 Discussion marathon
Listening and explaining – for Peter Rürup, that's what a trade fair is all about. © GEZE GmbH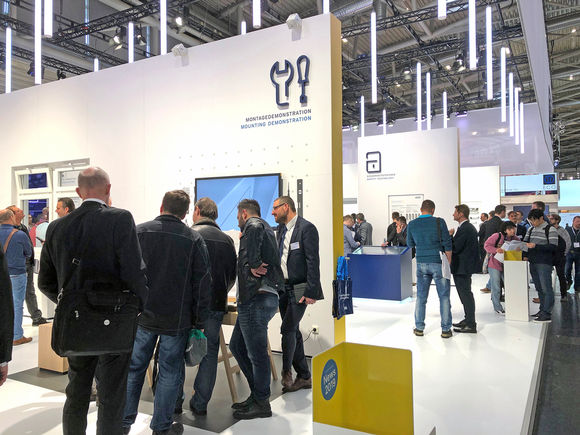 GEZE trade fair stand
Modern, open, airy – and always attracting lots of visitors: the new GEZE exhibition stand. © GEZE GmbH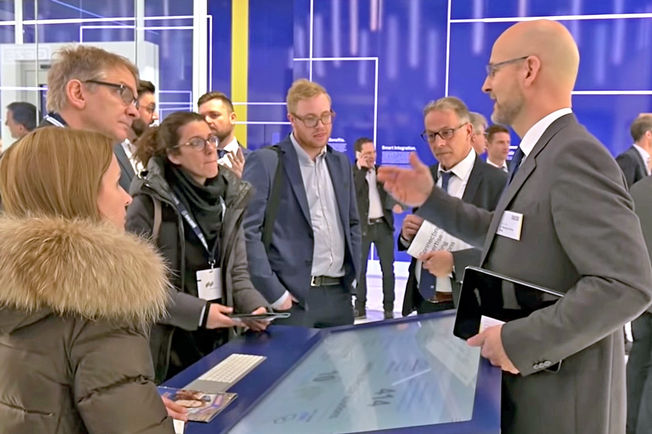 Building plan with BIM
Many visitors were attracted by one of our digitalisation themes: integral building planning with BIM. © GEZE GmbH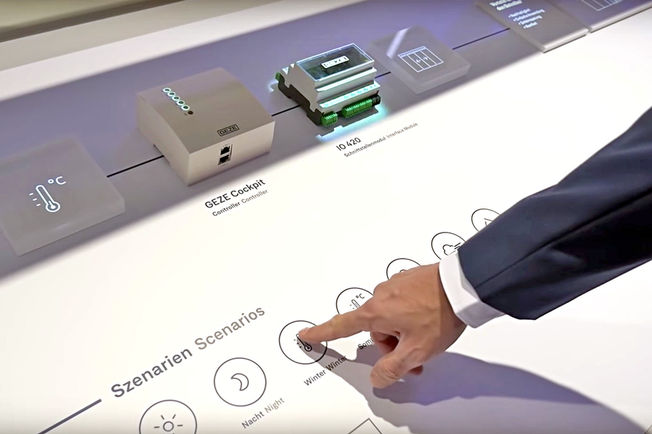 Cockpit scenarios
Making digitalisation tangible – with our GEZE Cockpit. © GEZE GmbH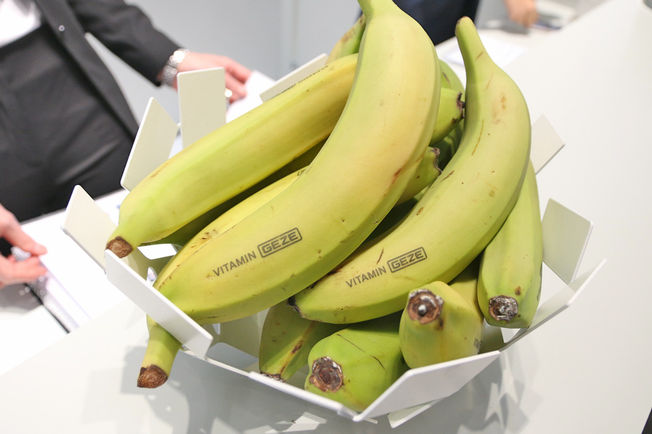 GEZE food
Fresh and healthy: We boosted our visitors' energy levels – with GEZE bananas. © GEZE GmbH
Of course it's now possible to integrate products into virtual environments using VR glasses – and to present them in an appealing way, but "We are practitioners and we talk to practitioners. They are the ones using the product. They want to operate the sliding door themselves to get a feel for the quality of our products. That's what I can offer here," says Rürup.
Practical test: the GEZE trade fair highlights
It's always really exciting when our products and services are actually tested by visitors. "Only then will we know whether we really hit the mark with our so-called trade fair highlights. Nothing is worse than missing the market – or raising false expectations," says Rürup. Two of the highlights we presented at the fair opened up a lot of discussion. The new ECdrive T2 drive and the SoftClose automatic door closer were big hits with our customers.
This was my first time at BAU – and I was more than excited by the quality and design of the SoftClose. That's exactly what we need for our underground garages.
COO of an international facility management company
Internationalisation and digitalisation – these are the driving forces behind our industry
If you ask this experienced industry expert about the special features of this trade fair, his response is clear: "Look around you. There is a huge number of international visitors on a scale incomparable with previous years. And of course, everyone's obsessed with digitalisation."
GEZE at the BAU Munich – soft facts
6,000 bananas with GEZE branding
3,700 GEZE bags handed out to visitors
5,500 packs of GEZE fruit gums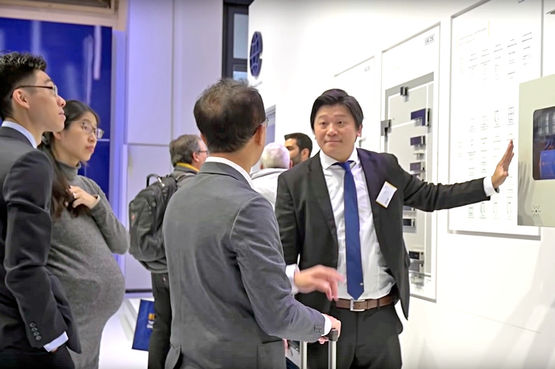 BAU trade fair international: Our product wall for international products shows our customised portfolio for numerous markets. © GEZE GmbH
Here too, GEZE is at the forefront with GEZE Cockpit. But Rürup is a realist and a real practitioner here. "We are helping to shape digital development in our industry branch – but we have to ask ourselves over and over again whether it actually provides an advantage. There's a fine line between a real benefit and a gimmick." GEZE has an advantage over many competitors in that we have been in the industry for a long time and have learned to distinguish between true trends and passing phases. But it is also important not to lose touch and to remain innovative and agile. "And as you know, CEBIT was discontinued, because each industry now offers its own digitalisation fair. So BAU digital is now also in the planning stages." And when asked if he will be there, he replies: "We'll have to see." But we have no doubt in mind: He'll be there.
Herr Rürup explains the fair highlights in the video