Start of training 2018: targeted, individual development
Young people want to enjoy training for a career with a bright future. Individual encouragement and a reliable employer are the key elements of a successful degree. Today, we welcome 16 new apprentices to three industrial-technical and two commercial IT training occupations.
Together into a strong future
They have many ideas and are looking for the optimal connection between their personal ideas and the right starting point for their career. They were impressed by everything GEZE has to offer, and that the company demands from them. Working and learning in an environment in which products are created that make our living and working environments more liveable and safer.
In the buildings of the future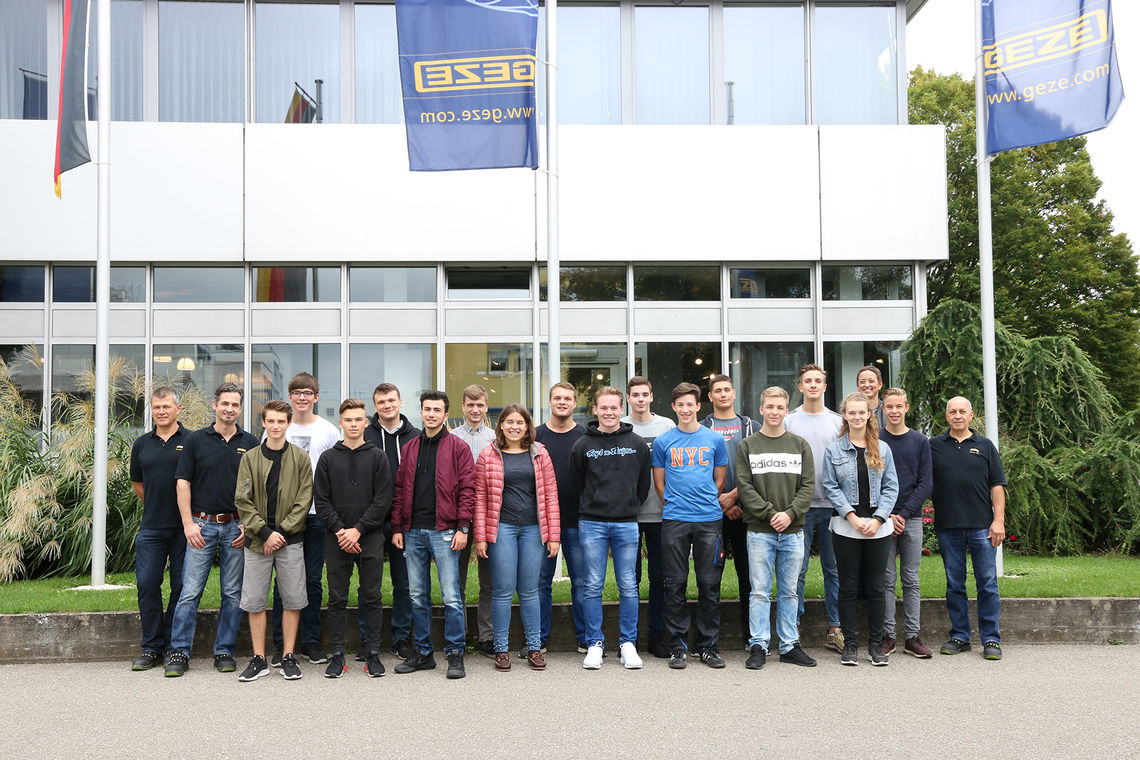 First day in their dream job: we at GEZE wish the 16 new apprentices a successful start on the interactive introductory programme. © GEZE GmbH
GEZE uses state-of-the-art technology for the automation, digitisation, and networking of doors and windows. The company creates intelligent technology for doors and windows to make buildings smart. We have the investment potential, the ability, and the passion for technology to make this vision a reality. We need bright minds to continue to develop and grow our company. People who like to take on responsibility and enjoy thinking outside the box and finding unconventional solutions.
Develop your potential and feel like you belong

GEZE is one of the most innovative companies in Germany: top 100 award for outstanding success in innovation. Photo: compamedia GmbH
Right from the start, we partner with new apprentices in the training fields of
IT specialist for application development
IT specialist for system integration
Industrial Engineer
Construction Engineer
Mechatronics Engineer
to ensure they develop to the best of their abilities, working on
interesting, challenging projects as the basis of the curriculum
regular feedback from trainers
promotion of special skills
additional targeted support in core and specialist competences, free learning afternoons
Training mentors: Apprentices in higher training years
Leisure activities and social commitment
Scope for new ideas
We promote the strengths of our apprentices individually, for example through targeted training, as reflected in our high mentoring rates. We provide an environment perfectly suited to new ideas. Modern workstations and media technology in flexible spaces enable agile working. It allows teams to get together very quickly. This promotes the exchange of ideas and networking of a variety of knowledge areas. Both are fun, and an important foundation for creating innovative products and the highest quality.
New training model at GEZE: Training Cubed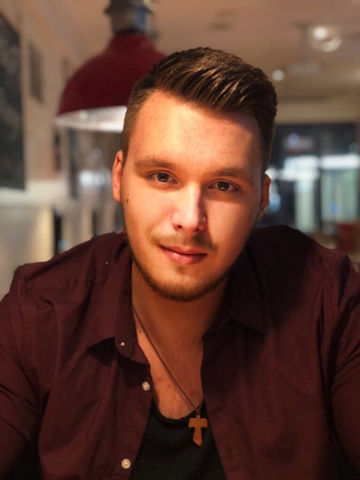 Training and Bachelor's programme in 3 years. We'd like to wish Adrian Pawliczuk continued success with Training Cubed. © GEZE GmbH
GEZE works with newly recognised training models, for instance in the rapidly changing field of information technology. The combination model Training Cubed is one example. It is an alternative to the programme of study for exceptionally high-performing apprentices who have completed the Abitur exam (A levels) or who have gained a vocational baccalaureate diploma.
Three modules
fast-track professional training as an IT specialist (IHK)
qualification as an IT Project Coordinator (IHK certificate)
Work/study programme to become an Operative IT Professional (IHK test)
Adrian Pawliczuk is a talented IT talent who has already started on module number two: "With Training Cubed, I can complete my IT specialist training through a speed class. At the same time, I am also training to be an IT Project Coordinator. I will complete a work attendant learning programme directly after my studies. The degree is equivalent to a Bachelor's degree and is opening up a lot of opportunities for me at GEZE – including abroad."